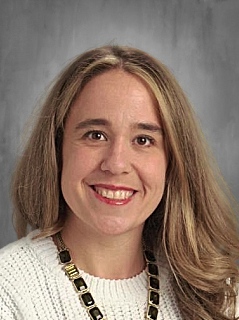 Kathryn Clobes
6th Grade Homeroom/4th-8th Mathematics
4th year at St. Mary School
Education: BS at Iowa State University; Masters in Teaching at University of River Falls
Family: Husband Nick, 2 cats, Koopa & Yoshi
Hobbies: I am a huge fan of movies, especially the Marvel franchise. If I am not at the theater, I am either thrifting, biking, ot hanging with my cats.
My Favorite Teacher: Mrs. Dorn, my chemistry teacher, taught me how to love school.
Favorite Book: Harry Potter by J.K. Rowling
The thing I like best about teaching at St. Mary School: I love the community this school has; there is always a friendly face found at St. Mary School.