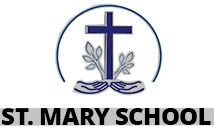 Testimonials
We moved to New Richmond two years ago not knowing the area or much about the school district. What we did know is that we wanted our son to attend a school with a more formalized structure academically and that was faith based. Our son loves and adores St. Mary School, it is like a second home to him. St. Mary School provides an environment where his young mind can flourish, and the teachers are actively engaged with the parents' concerns. St. Mary School also provides an excellent before and aftercare program which is flexible for working parents. The faculty and staff are amazing, they are very welcoming and professional, and they take their time to get to know the whole family. Safety is a top priority for St. Mary faculty, especially when it comes to picking up your child from school, they are very observant and will ensure that your child gets to where they need to be. We are truly grateful to have this school in New Richmond; we can't wait to send our daughter next year.
~Kate & James Thompson
When I look back on my time at St. Mary School, I know that I wouldn't trade my Catholic education for anything in the world. My education helped me excel in high school which prepared me for my current enrollment at a Catholic liberal arts institution. Having a learning environment where it was accepted and even encouraged to discuss God and my faith helped me grow academically and religiously.
~ Meredith Jarchow, Class of 2010
We have chosen St. Mary's School for our children because we believe that a Catholic education not only helps develop the whole person by fostering faith and service to others but it also provides excellent academics. Two of our children commented after graduating from St. Mary's how well prepared they were for high school. We love that our children are in an environment where there is mutual respect and kindness. St. Mary's School is a loving family environment that gives our children the ability and support to develop into the people they are meant to be.
~ Steve & Jacquie Graham, parents of students in 2nd grade,7th and two St. Mary's graduates.