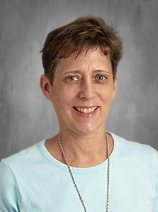 4th-8th Grade Science, 4th-8th Grade Art
30 years at St. Mary School
Education: BA St. Catherine University
Family: My parents are Duane and Jackie Rosauer. I have one brother who lives in Japan with his wife and son, a sister who lives in North St. Paul and has 3 children: Megan is in Graduate School and working at becoming an Occupational Therapist, Sophie is majoring in Chinese at the University of Minnesota, and Josh is in 8th grade. My youngest sister lives in Antigo, WI with her husband. I also have a nephew, Alex, who is watching over us from heaven.
Hobbies: Zumba, quilting and knitting
The thing I like best about teaching at St. Mary School: I love having the opportunity to share the Catholic faith with my students and being part of our school family.
My Favorite Teacher: Mrs. Henry noticed that I liked doing needle work and taught me some different kinds of needle work.