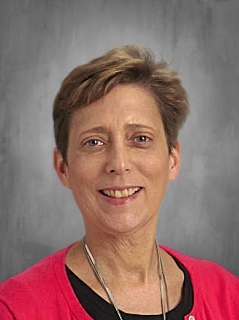 4th-8th Grade Science, 4th-8th Grade Art, 5th Grade Religion
33 years at St. Mary School
Education: BA St. Catherine University
Family: My parents are Duane and Jackie Rosauer. I have one brother who lives in Japan with his wife and son, a sister who lives in North St. Paul and has 3 children: Megan an Occupational Therapist, Sophie works for a financial company in Chicago, and Josh is a freshman in high school. My youngest sister lives in Antigo, WI with her husband. I also have a nephew, Alex, who is watching over us from heaven.
Hobbies: Zumba, quilting and knitting
My Favorite Teacher: Mrs. Henry noticed that I liked doing needlework, and she kept me in from recess to teach me different kinds of needlework.
Favortie Book: Caddie Woodlawn by Carol Ryrie Brink
The thing I like best about teaching at St. Mary School: I love having the opportunity to share the Catholic faith with my students and being part of our school family.